Mr President, it's time to panic
By Edward Luce

(The Financial Times)
November 13, 2011 7:30 pm
A few weeks ago, James Carville, the legendary manager of Bill Clinton's 1992 campaign, had a choice word of advice for Barack Obama: "panic". The president was heading to disaster in 2012 with the same crew of advisers that had led him up this blind alley. "Mr President, your hinge of fate must turn," Mr Carville said. "This may be news to you but things are not going well." Thus, Mr Obama should "fire a lot of people" and set a new course.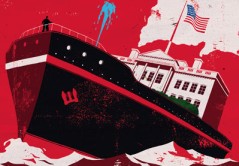 Such is the counsel given to every American president at one time or another. And many of them follow it. Both Ronald Reagan and Bill Clinton, America's two most successful recent presidents, acquired the habit of ejecting close friends when something better was on offer. Even George W. Bush forced himself to break the Cosa Nostra when he finally sidelined Karl Rove, his electoral "boy wonder", six years into his presidency.
In his reluctance to change his kitchen cabinet, Mr Obama is an exception — indeed, his campaign inner circle is actually strengthening its grip on the White House. The group, which most prominently includes Valerie Jarrett, the longstanding Chicago friend and mentor to the Obamas; David Plouffe, the 2008 campaign manager; and David Axelrod, who is now shepherding Mr Obama's re-election campaign from Chicago, last week clipped the wings of Bill Daley, the president's hapless chief of staff.
The White House said that Mr Daley would share his duties with Peter Rouse, an Obama old-timer. At a time when Europe is teetering on the brink, the move looked like one of those over-caffeinated events that sets Washington speculating but leaves everyone else nonplussed. Yet it also sent a troubling message that the president remains unable to create a properly functioning White House. Much of governing is about managing. No one, so far, has been given the authority to restrain Mr Obama's inner circle. The effects have been sorely in evidence over the past 12 months.
Ever hopeful that the president will reclaim what they see as his true liberal mantle, disillusioned supporters put a different gloss on last week's reshuffle — as the welcome conclusion to a year of fruitless attempts at bipartisanship. A former executive at JPMorgan, Mr Daley was appointed in the wake of the Democratic party's "shellacking" in last year's congressional elections — the heaviest midterm defeat in 70 years. His job was to build bridges with the newly victorious Republicans and to mollify an alienated business community. Neither has gone well.
The president's deepest humiliation came in the wake of the debt ceiling debacle in September, when Republicans forced him to reschedule an address to the joint houses of Congress. Mr Obama, who was to set out his plans to revive the flagging US economy, had to shift the date after Republicans said it clashed with a presidential debate. Worse, he then had to bring forward his speech to the earlier time of 7pm so it did not overlap with the opening of the National Football League season. It marked a new low in an ever-shrinking presidency.
As for Mr Daley's charm offensive with business leaders, he did not even succeed with his friend Jamie Dimon, the chief executive of JPMorgan on whose board he had served. Mr Dimon, a former backer of Mr Obama who had been alienated by his Wall Street reform bill, recently had a private dinner in New York with Mitt Romney, Mr Obama's likely opponent. Mr Dimon even attended a fundraising event for the former Massachusetts governor. All of which may be good reasons to sideline Mr Daley.
Yet they are secondary. Mr Obama's campaign team has rejected every transplant he has tried — even ones from Chicago, such as Mr Daley and Rahm Emanuel, his predecessor. Contrast their experience with that of James Baker, whom Ronald Reagan hired in preference to his friends to be his first chief of staff. Mr Baker had run the election campaign of George H.W. Bush, his Republican rival. Seen by many as the best ever chief of staff, Mr Baker set out terms of which an Obama appointee could only dream. This included "hiring and firing authority over all elements of the White House" and control of every piece of paper that went in and out of the Oval Office.
On his way out, Rahm Emanuel warned Mr Daley that he would be just one among four de facto chiefs of staff, each with independent access to Mr Obama. That has proved accurate. Effective presidents rely on powerful managers, who are not obliged to compete with election consultants for the president's ear. At a time when there is "low visibility" in the US economy, and when volatility holds the whip hand over American politics, there is greater need than ever for a leader who can focus on the bigger horizon.
It has been almost three years, and frustrated allies say that Mr Obama shows few signs of finding a learning curve. He still fails to consult widely and dislikes "reaching out" when he has to. Many Democrats have given up trying. "He doesn't want to listen," said one senator. "I don't think the leopard is going to change his spots." The plain fact is that Mr Obama prefers to campaign than govern. With the entrenched inner circle that he has, no one should be surprised by this. Whether or not Mr Obama can eke out a victory next year, it would be optimistic to expect things to change radically in a second term.
From The Financial Times
---